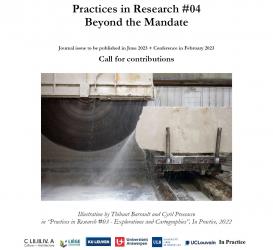 October 2022
CALL FOR CONTRIBUTIONS
Practices in Research #04 - Journal and Conference
"What do architects do for free, which is not asked for explicitly? What drives them beyond the expectations inherent to their mandate? What is the motivation of their work? Which implicit or explicit duties?? Dispositions and inclinations in their designing? Reflections and inspirations that feed their design practice? This space beyond the mandate, the freedom or the unexpectedness in responding to the expectations, is what moves any reflective or inquisitive practice.
(...)
PiR 04 – "Beyond the Mandate" is looking for contributions exploring this field of motivations which nourish the freedom of proposition. The contributions are expected to investigate this space while staying close to the practice, its documents and outcomes."
Short abstracts to be submitted before the 2nd of December 2022.