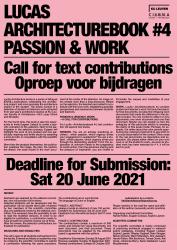 February 2021
Call for Text Contributions
LucAs Architecturebook #4 - Passion & Work
PASSION & URGENCY, WORK —A CALL FOR CONTRIBUTIONS
For LucAs—Architecturebook #4, text contribution
will explore two tracks.

PASSION. You are an actively practicing architect: which passion, which urgency drives your engagement in academics? You are a student : which passion, which urgency drives you through the demanding studios? From the exploration of unknown fields to the pragmatics of construction, from the generous sharing and the pleasure of inspiration, you are invited to formulate the causes and modalities of your engagement.
WORK. LucAs—Architecturebook #4 contains student and teacher's work. Not only the beautiful final documents, but also the intriguing work documents that made the difference in the design process. You are invited to reflect on two documents: one work document and one final document. Stick close to the real documents, be descriptive and explorative.