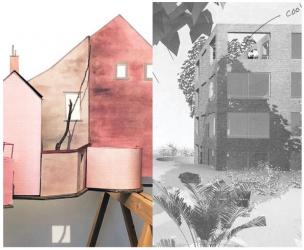 May 2019
In Practice conference - Raamwerk & Dyvik Kahlen
On Tuesday 6th of May 2019 at KU Leuven Brussels North Station, In Practice conference with Raamwerk and Dyvik Kahlen as guests for the evening lecture.
In the afternoon, research seminar for practising architects, including Steven Schenk (KU Leuven, Schenk Hattori), Olivier Henz (U Liège, Ecorce), Virginie Pigeon (U Liège, Pigeon-Ochej), Johannes Berry (KU Leuven, Sugiberry).
In the morning, Tomas Ooms (KU Leuven, Studio Tuin en Wereld) will proceed to his second presentation preceding the doctoral examination.
Just before the evening lecture, the book "Philippe Vander Maren & Richard Venlet : In Practice" will be launched.